The Local Crumb
Written in May 2022 for "Magazine Reporting and Writing" at the University of Iowa
The sun has not risen yet when Aaron Hall arrives at his bakery, a small room with two ovens, operating out of an old schoolroom in the middle of Iowa. He turns on his speakers and begins playing alternative rock music, grabbing the flour to dust his wooden table; thus, the day has begun.
Aaron Hall is not your traditional baker. His bakery, The Local Crumb, in Mount Vernon, Iowa, is located in an old science classroom. In a town of 4,450, Hall values selling bread at farmer's markets, local restaurants, and out of his trunk in an Iowa City parking lot early Friday mornings. With no storefront or national recognition, Hall was recently named a 2022 semi-finalist for a James Beard Award for Outstanding Baker: meaning he was ranked among the top 20 bakers in the United States. The nomination may be a sign of the updated attitudes of the Beard Foundation, or it could be the fact that Hall bakes fantastic bread.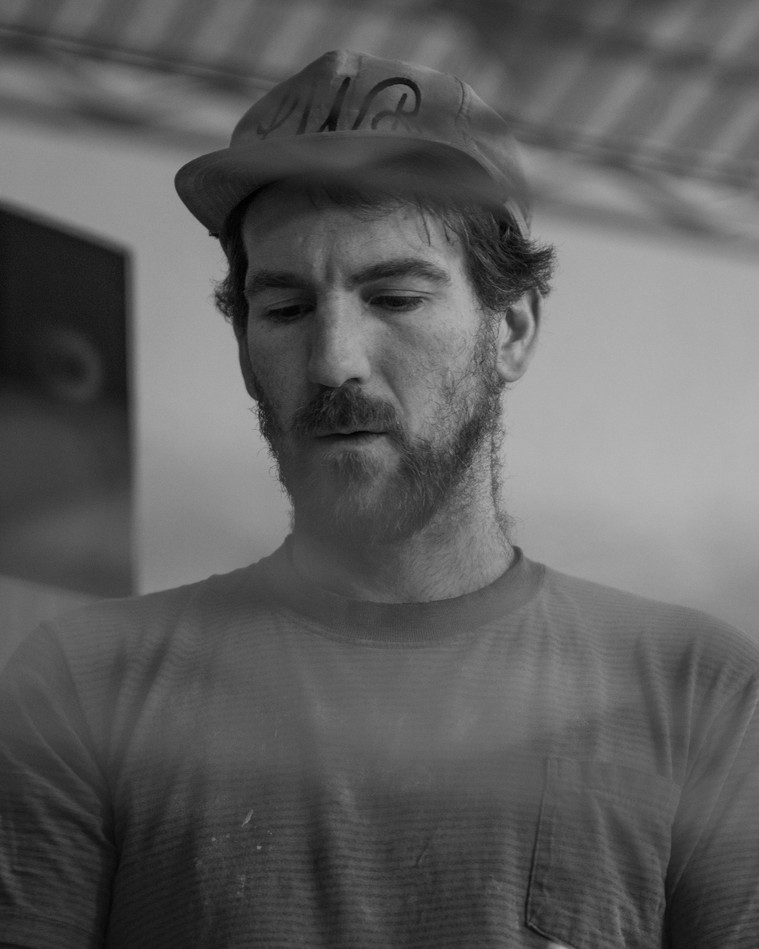 Hall, 34, grew up in Granger, Iowa and went to Cornell College in Mount Vernon, Iowa. Graduating in 2010 with a degree in studio arts, Hall stayed in the small, college town and did a myriad of things. He worked with small businesses and dabbled in wedding photography, but most importantly he worked at the Lincoln Wine Bar: where he used the bar's wood-fired oven to bake bread before the restaurant opened.
Most of what he knows as a baker is self-taught and his expertise is a habit of repetition. Eventually, his bread was a valued commodity and Hall outgrew the pizza oven that only held 10 loaves at a time.
Hall has worked in and around restaurants for most of his adult life. His older brother is a baker as well, owner of She Wolf Bakery in New York City. His true interest in baking, however, sparked in college. Hall bought a loaf of bread right before he left for a vacation. Upon his return a week later, the bread, still sitting on top of the refrigerator, was completely fine; there was no mold or discoloration. Growing up around kitchens, this didn't sit right with Hall. So, not long after, he began making his own bread in his small, apartment kitchen, gifting it to friends and neighbors.
With no official culinary training, Hall's bread is quite literally his own invention.
"I think back to those times and the bread was terrible," Hall smiled, "but I knew I wanted bread to be accessible, especially quality bread. I didn't even have the idea that I would go forward with it like this."
Quickly enough, Hall was baking everything from sourdough, to bagels, to baguettes, to sandwich buns, perfecting each. People wanted his bread; that propelled him, not always by choice.
Hall's first official job as a bread supplier for a business was at Salt Fork restaurant in Solon, Iowa throughout the early 2010s. At the same time, Hall became a regular at the Mount Vernon Farmers Market.
The more demand he received, the more space he needed. In 2013, Hall went to American Baking Systems in Cedar Rapids and purchased his first electric single deck oven. He put the oven in his home garage and turned it into his first make-shift bakery. While business was good, mostly at the farmer's markets, and direct sales remained steady, things were "sort of a disaster" in terms of using the house for bread production. There were always dishes; there was always dust; all of his rooms were taken over in the process.
It was then when Hall moved into the First Street Community Center—a converted school that houses artists, antique shops, fitness and wellness sessions, community events, and The Local Crumb, Hall's bakery.
The Local Crumb operates out of Mount Vernon, but Hall sells to a variety of local restaurants around Iowa City and Cedar Rapids. His bread has been enjoyed by Day Drink, Goosetown Cafe, Marquee Pizzeria, Nosh, Pullman, Rodina, The Webster, and more. He is always on the move—driving to these places to drop bread off, getting his flour from Breadtopia in Fairfield, Iowa, and arriving at the parking lot for the morning bread pick-up. Regardless of where he goes, there is a good chance he has good bread.
"Bread is an overlooked thing. Every place wants to make a great sandwich, but no worries about the bread," Hall said. So, Hall encourages others to pay attention to the bread, in and out of restaurants.
Hall began supplying bread to Marquee Pizzeria in 2016. The restaurant uses Hall's sourdough bread for their avocado toast and his sandwich buns for the burger and chicken sandwiches. Marquee's Head Chef Joshua Johnson says that Hall's bread elevates the food they serve as a restaurant.
"Aaron is a great guy who makes damn good bread," Johnson said. Hall delivers bread to Marquee weekly, sometimes twice a week if needed.
While Hall never predicted he would be a James Beard Award Semifinalist, he doesn't expect the title to change much of who he is. He is comfortable in his small classroom, listening to loud music, and shaping bagels to sell to local coffee shops. Hall has had an interesting journey thus far, and simply, the quirky bread shop is exactly where he wants to be.